This cry from those privileged to witness Jesus curing the paralytic lowered from the roof into his midst is not reserved just for those who saw the Lord during His public ministry (Lk 5:7-26).  Rather it should be our response frequently, even daily, over miracles we witness or about which we come to know.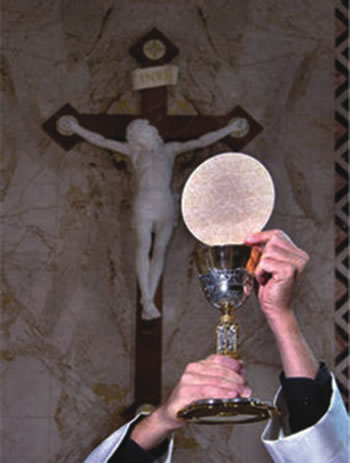 The miracle that can be seen daily: the Mass, specifically confecting the Eucharist.  We know of extraordinary Eucharistic miracles that have happened throughout the ages but we can witness one daily through the eyes of faith informed by divine revelation.  The verse quoted above (v. 26) begins this way: "Then astonishment seized them all and they glorified God, and, [were] struck with awe."  Good Lord, I wish that were my reaction during every elevation of the host and cup.  Let us strive to be ever more mindful of this miracle-gift and may the presence of Christ in us be made manifest in our conforming to Him in every way.
Additionally, we do hear of miracles of the type that Jesus' followers witnessed — for example, countless stories of healings at Lourdes.  Also, as more and more saints are canonized (St. John Paul II was prolific in this regard) we hear the tales of the miracles that confirmed the sanctity of these holy men and women.
And what about the "everyday" miracles?  The devil worshiper turned Catholic.  The murderer in prison who gives his life to God.  The abortionist who becomes an advocate for the pro-life cause.  The parents who forgive their child's killer.  The brothers who are reconciled to each other after fifty years of estrangement.  The woman who is reconciled to the Lord and His Church by making a good confession after sixty years away.  The "impossible" resolution to a "hopeless" situation after prayer.
With eyes to see it will not be difficult for us to often say "we have seen incredible things today."  And, with God's grace, maybe we will impact others so that they will be compelled to say the same thing.