Today's Feast of St. Stephen, Deacon and First Christian Martyr, presents quite a contrast to yesterday's joyous celebration of the birth of our savior.  Or does it?  Of course, one episode gives us the beginning of life and the other the end of life (Acts 6:8-10; 7:54-59).  But Jesus' incarnation, His coming in the flesh in His mother's womb, is the reason Stephen could even have a vision of the Son of Man in heaven.  It was the end of Jesus' earthly life and His Ascension into heaven that allowed Stephen to begin his heavenly life at his earthly death.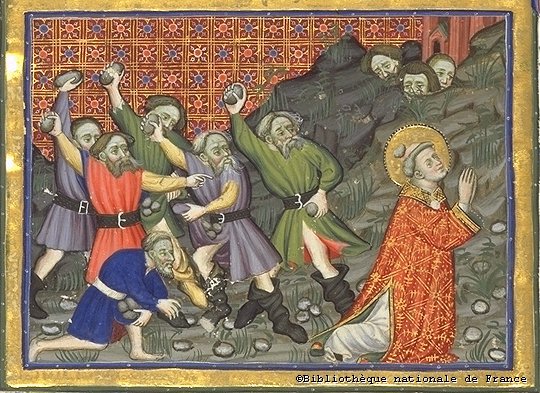 Would that we all could have the sentiment applied to us that "they could not withstand the wisdom and the spirit with which he spoke"!  Stephen spoke Gospel truth to power "in season and out of season" (see 2 Tim 4:1-5)  We must, in line with the Church Christ established, be unafraid to do the same.  If we sincerely wish to do the Lord's will and embrace Him fully we have this promise from Jesus in today's gospel (Mt 10:17-22):
You will be given at that moment what you are to say.
For it will not be you who speak
but the Spirit of your Father speaking through you.
Like Stephen, you may "be hated by all because of my name" but we are promised that "whoever endures to the end will be saved" (again from today's gospel).  Sounds heavenly to me.
St. Stephen, pray for us that, like you, we may never compromise on the Truth.