I was struck when I heard this passage proclaimed in the first reading (Sir 48:1-14) at Mass today.  I don't recall ever hearing it used in apologetic discussions regarding the intercession of the saints, but there it is in the Old Testament (at least the Catholic OT — maybe because it is one of the books considered "apocryphal" by Protestants that it is not used to defend Catholic teaching on the matter, at least in debates; this article will be helpful regarding the scriptures not considered canonical by Protestants).
Ostensibly, this verse is referring to 2 Kings 13:21 when a dead man was thrown into Elisha's grave and immediately came back to life upon touching his bones.  I believe I have heard this verse used to defend the concept of relics, but it seems to me that it could be used more broadly to encourage asking the help of holy men and women who have gone before us.  If the Lord allows Elisha's bones to have such miraculous powers, which declares him to be of special character, certainly invoking his help cannot be discouraged (St. Elisha, whose feast day was one week ago, pray for us!).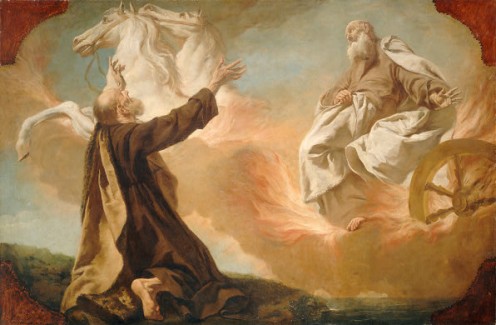 Giuseppe Angeli, Elijah Taken Up in a Chariot of Fire, ca. 1740/1755, Oil on canvas
Elisha is famously known for the scene above, in which he watches Elijah taken up to heaven in a "chariot of fire" (2 Kgs 2:11-12) after receiving the former's mantle (taking over his work).  But, in doing a bit of research on Elisha, he is an absolutely fascinating character in his own right (it is worth reading his whole story, starting in 1 Kings 19 and continuing in 2 Kings 2-13, as well as the overview of his ministry given in this chapter of Sirach; he even gets a shout out from Jesus in Luke 4:27).  The Catholic Bible Dictionary (Scott Hahn, gen. ed., [New York: Doubleday, 2009]) points out a certain uniqueness in Elijah in his "receiv[ing] ecstatic experiences in a way that was noteworthy than for any other Old Testament prophet" but "[a]lthough immensely influential, he remains in the shadow of his mentor, Elijah" (p. 242).
Consider bringing him out of the shadows for your own edification by reading about him.