So many of the burdens that weigh on our minds, that occupy our thoughts, that bring anxiety to our lives, have to do with things of this world that divide our loyalties between God and mammon (i.e., material things — see Mt 6:24).  Kempis continues to expand on the issue of obedience and submission by declaring that we must give our whole hearts to the Lord to achieve true and lasting peace (1,9).
In today's Gospel (Mt 4:12-23), we read of Jesus' initial calls, soon after He begins His public ministry, to the men who He desires to be His closest collaborators.  Above we read of the fishermen brothers who were the first called.  The next two verses give us a similar response ("immediately they left") of another two brothers, also fishermen, James and John.
We may be tempted to think that their quick response was a miraculous event, or that they were in some sort of hypnotic state — after all, it is the Messiah calling them and He should get the helpers He desires, right?
Well, Jesus does not force Himself on anyone.  He proposes, not imposes — the pattern we are to follow when sharing the Gospel.  All of the followers Jesus invited to ministry consented fully to being His disciples (although they certainly did not know all that it would entail — not even close, I'd wager).  So how did they know Jesus?  Likely they heard Him preach or at least heard glowing reports of Him (some quite possibly from John the Baptist).  Then, when encountering Jesus personally, He certainly must have been a compelling figure.
In the case of the four men mentioned in today's Gospel, we have more insight into this episode from Luke (see 5:1-11).  When he first encounters these fishers, Jesus actually asks to preach from their boat (all four were working together), so they did hear the Good News directly from Jesus.  Then He miraculously provides them a great catch of fish, after which He tells them "from now on you will be catching men" (v. 10).
Jesus invites the whole world to "come after me."  We should renew our commitment to this calling daily by seeking to eliminate all that causes separation between us and God (sin, unnecessary worry, and materialism).  We are to lighten our load and what better way to do so than to attach ourselves ever more closely to our Savior who said,
Come to me, all you who labor and are burdened, and I will give you rest. Take my yoke upon you and learn from me, for I am meek and humble of heart; and you will find rest for yourselves.  For my yoke is easy, and my burden light. (Mt 11:28-30)
Then we will be much better disposed to become "fishers of men" through word and action.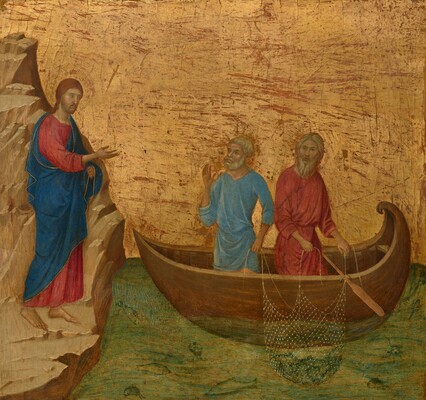 The Calling of the Apostles Peter and Andrew (1308-1311) by Duccio di Buoninsegna