Today we move on to Book One, Chapter 14 of The Imitation of Christ: "Of Avoiding Rash Judgment," a short, but powerful section on a matter to which it was easy for the Pharisees in today's Gospel (and for us!) to fall prey (1,14).
In Mark 7:1-13, the religious leaders of Jerusalem are incredulous that some of Jesus' disciples did not follow traditional prescriptions regarding hand washing before eating.  Jesus does not even address this particular accusation but rather quotes Scripture (Is 29:13) and in doing so indicts them of hypocrisy.  The issue isn't the act of washing hands — then and now, most would agree it is a good idea to do so before handling food.  Rather, Jesus is questioning their hearts.  The Pharisees were infamous for adding their own rules to God's law, ostensibly to safeguard it, but far too often to create loopholes for themselves while burdening the people (as noted here with qorban; also see Mt 23:4).
Consider that these religious leaders were following around Jesus.  They heard His teachings.  They saw the miracles and exorcisms.  They even witnessed Him raising  the dead.  And washing hand is their biggest issue?!  Verily, as Kempis says, "true judgment" was lost in them due to "private affection" (i.e., personal feeling).
The implications for us?  Let me quote from a favorite Mark commentary:
A religious piety which puts emphasis not on interior dedication to God but on outside observances, while the heart can all the time be remote from God and immersed in material things, is of very little value. — Josef Schmid. The Gospel According to Mark (The Regensburg New Testament) (Staten Island, NY: Alba House, 1968), 137.
We are sadly mistaken if we think some formulaic prayers or rituals guarantee us right standing with the Lord now or salvation ultimately.  Rather, "where your treasure is, there also will your heart be" (Mt 6:21).
A final aside, regarding tradition.  This passage is usually the first one folks go to who wish to contest the Catholic doctrine of Sacred Tradition.  But there is a radical difference between human tradition attested to in this reading and Divine Revelation as passed on and safeguarded by the Church (see the CCC and this article for more).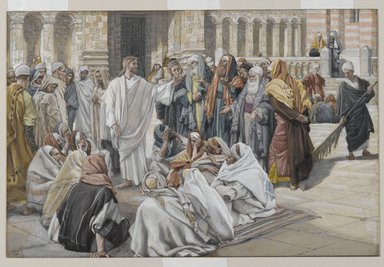 The Pharisees Question Jesus (1886-1894) by James Tissot