We begin chapter 18 ("Of the Examples of the Holy Fathers" [1,18]) of book one with this quote highlighting the life of extraordinary virtue that so many of our ancestors in the faith exhibited.  It is why reading the lives of the saints, and praying to these holy men and women, is so profitable to us.  A daunting example, but eminently possible, because they showed it could be done — entirely relying upon God's grace for aid and perseverance — despite our fallen nature.
These persons we hold in esteem radically embraced what Jesus says in today's Gospel (Lk 9:22-25) will surely come to His best friends: a daily cross.  For their deep and abiding faith, they lost their worldly lives (sometime literally) to gain eternal life.
We must be willing to do the same for the sake of the Kingdom of God.  Are we willing to be radical instead of conformist?  Are we open to be possessed by the Holy Spirit?  Do we embrace our daily challenges (big and small) that come our way?
In this Lenten season, let us be especially attuned to God with increased prayer, fasting, Bible study, and spiritual reading (especially the lives of the saints — find books on a favorite saint or read a compilation and come to Easter with a favorite saint).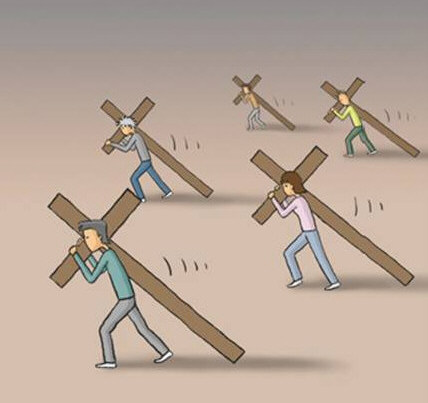 (Click here for the entire strip from which  this image was taken — excellent!)