Kempis never tires to speak of the importance of humility and being poor in spirit, that is not prioritizing or having undue attachment to the material over the spiritual.  In this chapter (1,24), his emphasis focuses on our particular judgment at death and the punishment meted out at that time to those who have sin or the effects of sin still on their souls (see CCC 1030) as well as the benefits of being faithful (both aspects seen above in a very short phrase).
As is appropriately proclaimed each March 25, The Feast of the Annunciation, we hear from Luke, the only evangelist who fully records this scene, the visit of the Archangel Michael to Mary in her home town of Nazareth (Lk 1:26-38).  The angel appears suddenly, declaring her chosen to bear the "Son of the Most High."  She wonders how this could be since she must have made a vow of perpetual virginity (why else would this even be a question since she was betrothed to be married?).  In humility, she gives her consent (God never forces Himself on us — He is a gentleman) as "handmaid of the Lord."
Two things struck me about Kempis's words in relation to today's Gospel.  Firstly, there is no better example than Mary of poverty and humility.  Sinless from conception until her dormition, Mary lived perfectly our divine directive to always put God first, others second, and herself last.  Secondly, I have long imagined her as the picture of confidence in her interaction with the angel.  Surprised, no doubt, in her humility, that such a great favor would fall to her, I can't believe there was even a bit of fear in her despite her encounter with "one of the seven angels who stand and serve before the Glory of the Lord" (Tob 12:15) who likely appeared in all his glory.  She expressed herself with poise (not doubt) when questioning how his announcement squared with her vow, and then humbly, but forthrightly, agreed to this request from her Creator, fully assured in faith that God wanted and needed her for His plan of salvation.
Servile fear of God or unwarranted anxiety about events should not be a part of Christian life.  God is in control, even in the most troubled times, ordaining or permitting all that happens.  The questions we should ponder are: How can God be glorified in the midst of this difficult time?  What can we take from the challenge He has put in front of us?
Like Mary, we should approach whatever is presented to us in full confidence in Our Father, who knows what's best for us (see Lk 11:11-13).
Fear is useless. What is needed is trust. (Mk 5:36; Lk 8:50)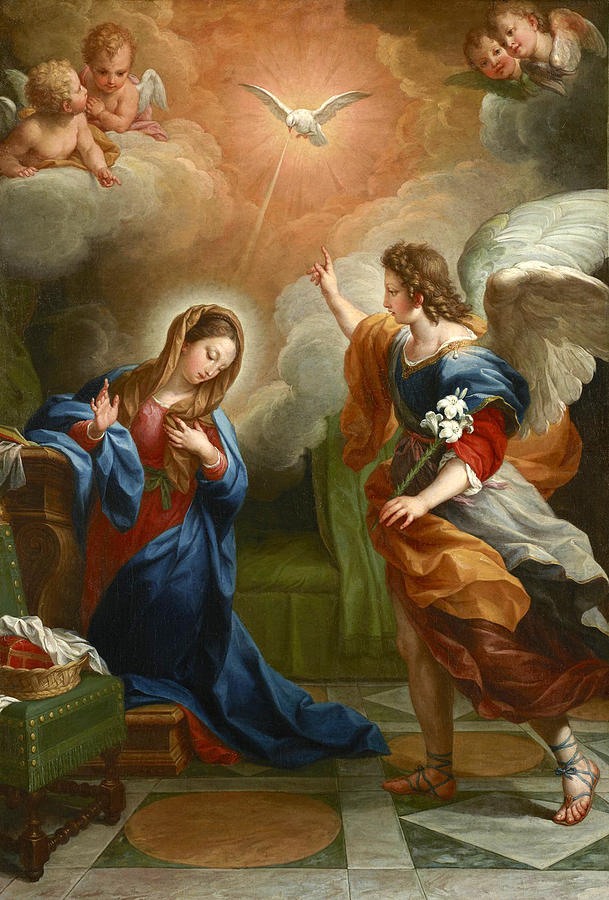 The Annunciation (1742) by Agostino Masucci