Kempis, provides another nugget regarding what is entailed in esteeming the Lord above all things (2,7).  If we truly love Jesus with all of our being then we should keep Him close, in sickness and in health, in good times and in bad, until death do us meet.  Our tendency is to appeal to prayer and conversation with God during the rough patches, but the persons of the Trinity want us to have a daily ongoing relationship with them, a familiarity that, unlike the human saying, does not breed contempt, but rather a deepening respect for the unwavering faithfulness of the Lord in our lives.
Peter, a man acquainted with suffering, knows from whence he speaks, when he preaches about affliction as a test of faith (1 Pt 1:3-9).  What first comes to mind is the famous story of the Quo Vadis?, from the apocryphal Acts of Peter, in which the first pope is urged to flee Rome ("that thou mayest yet be able to serve the Lord") due to the imminent danger he faced there:
And as he went forth of the city, he saw the Lord entering into Rome. And when he saw him, he said: "Lord, whither goest thou [quo vadis] thus (or here)?" And the Lord said unto him: "I go into Rome to be crucified." And Peter said unto him: "Lord, art thou (being) crucified again?" He said unto him: "Yea, Peter, I am (being) crucified again." And Peter came to himself: and having beheld the Lord ascending up into heaven, he returned to Rome, rejoicing, and glorifying the Lord, for that he said: "I am being crucified": the which was about to befall Peter. (Acts of Peter, XXXV)
Peter remained faithful to his Master never forgetting the lessons he learned at the charcoal fires (see Jn 18:15-18 and Jn 21:9-14).  It is a strong tradition of the Church that Peter did suffer martyrdom in Rome as depicted below and, in fact, his manner of death was provided to us by John (see Jn 21:18-19), who surely would have known Peter's ultimate fate.
But, also, we have already been hearing at daily Mass about the persecution of Peter and companions shortly after Pentecost with more to come as we continue to hear Acts proclaimed each day.  Peter was not to be spared numerous difficulties the rest of his life in proclaiming the Good News.
Like Peter, we should be confident in the faithfulness of the Lord in all circumstances, even if it should happen that those closest to us, that we trust most, fail us.  This experience alone can be a great trial for us, especially if it occurs because of our faithfulness to Jesus.  But by uniting our sufferings to Christ we bring "praise, glory, and honor" to God through our example of faithfulness and perseverance.  How many persons have been brought to the Church through the heroism of persecuted saints?  It is with good reason that an early Christian writer said, "the blood of the martyrs is the seed of the Church" (Tertullian, Apologeticus, Chapter 50).  We will likely not be required to shed blood for our faith, but the white martyrdom of persecution will be a herald of our faithfulness that will disgust some but, I'm quite confident, will move many more others.
G.K. Chesterton famously said:
The Christian ideal has not been tried and found wanting. It has been found difficult; and left untried. (What's Wrong with the World, Part I, Chapter 5, "The Unfinished Temple")
Through our fidelity, let us prove him wrong.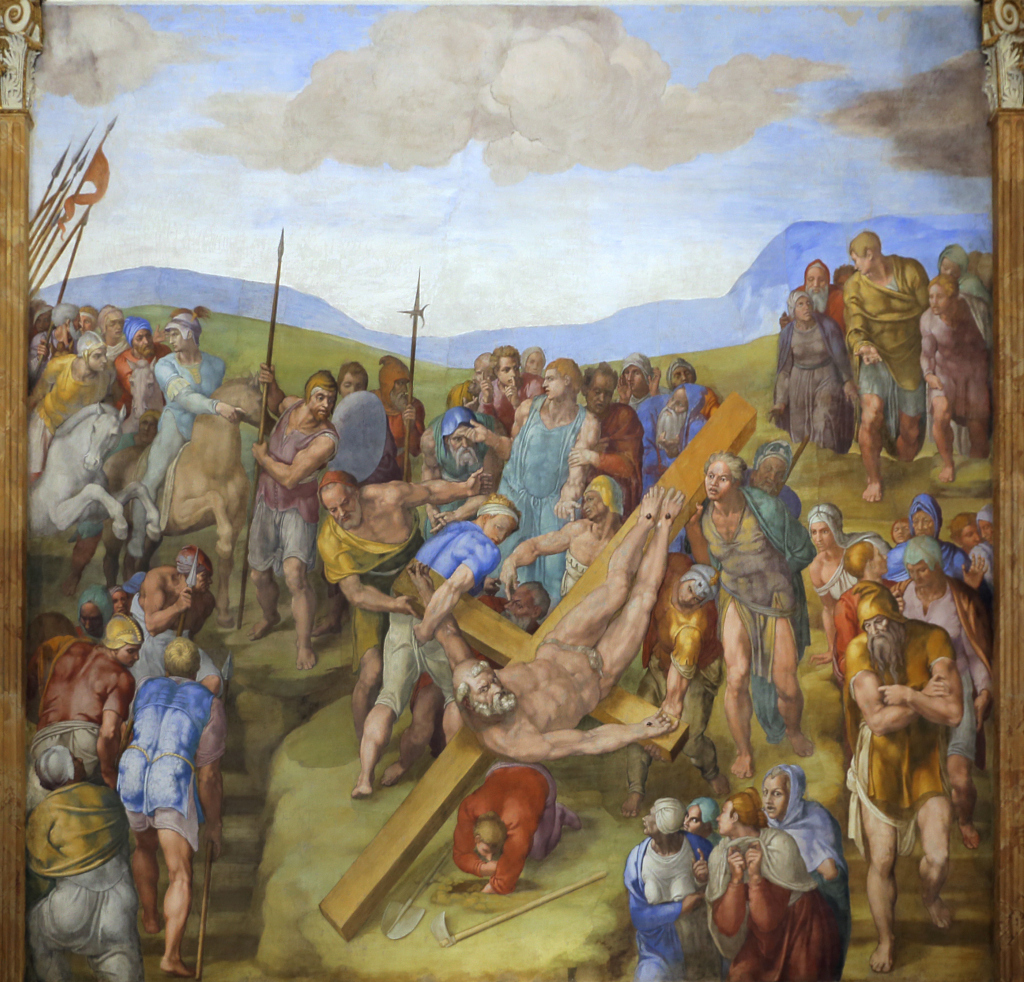 The Martyrdom of St Peter (1546-50) by Michelangelo Buonarroti