Today is the seventieth(!) anniversary of the priestly ordination of Pope Emeritus Benedict XVI (Joseph Ratzinger). It seems providential that his ordination was on the Solemnity of Saints Peter and Paul, Apostles (find here the beautiful work of Michelangelo honoring both men in the Pauline Chapel next to the Sistine Chapel [backstory]) since he was a successor of Peter (as pope) and one of the greatest biblical theologians since Paul. Both, certainly, have guided and assisted in his long ministry.
In the latest biography on the pope emeritus (I can't wait to get to it and the final part coming out in November), the author alerted me to his homily as pope ten years ago today in which he reflected on his ordination to the priesthood. An excerpt of that homily:
According to the liturgical practice of that time, these words conferred on the newly-ordained priests the authority to forgive sins. "No longer servants, but friends": at that moment I knew deep down that these words were no mere formality, nor were they simply a quotation from Scripture. I knew that, at that moment, the Lord himself was speaking to me in a very personal way. In baptism and confirmation he had already drawn us close to him, he had already received us into God's family. But what was taking place now was something greater still. He calls me his friend. He welcomes me into the circle of those he had spoken to in the Upper Room, into the circle of those whom he knows in a very special way, and who thereby come to know him in a very special way. He grants me the almost frightening faculty to do what only he, the Son of God, can legitimately say and do: I forgive you your sins. He wants me – with his authority – to be able to speak, in his name ("I" forgive), words that are not merely words, but an action, changing something at the deepest level of being. I know that behind these words lies his suffering for us and on account of us. I know that forgiveness comes at a price: in his Passion he went deep down into the sordid darkness of our sins. He went down into the night of our guilt, for only thus can it be transformed. And by giving me authority to forgive sins, he lets me look down into the abyss of man, into the immensity of his suffering for us men, and this enables me to sense the immensity of his love. He confides in me: "No longer servants, but friends". He entrusts to me the words of consecration in the Eucharist. He trusts me to proclaim his word, to explain it aright and to bring it to the people of today. He entrusts himself to me. "You are no longer servants, but friends": these words bring great inner joy, but at the same time, they are so awe-inspiring that one can feel daunted as the decades go by amid so many experiences of one's own frailty and his inexhaustible goodness.
One other quote from Benedict, from the same book:
[A]t the moment when the old archbishop laid his hands on me, a bird, a lark perhaps, rose from the old cathedral high altar and trilled a little song of joy. That was like an encouragement from above. It is good. You are doing the right thing.

Peter Seewald (trans. Dinah Livingstone), Benedict XVI: A Life (Vol. 1), (London: Bloomsbury Continuum, 2020), 247.
Yes, you did the right thing, Fr. Benedict, and you still are.
Here are a few other places to read and see more about his ordination: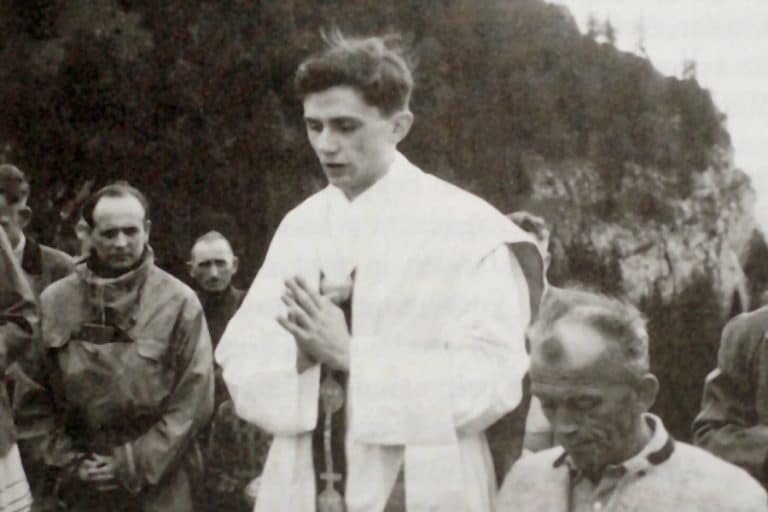 No pope has lived longer than him, yet still I exclaim, "Long live Benedict!"
God bless.