Gospel Reading (Lk 1:26-38)
If we were to assign a motto to the Blessed Virgin's life, it would be these words to the angel Gabriel. Her whole life was dedicated to the Lord, her will perfectly aligned with His from the moment of her conception. So her reply to the angel, despite her surprise and being "greatly troubled" (v. 29), would have come naturally, without effort or second thought. Virtues, like vices, become habit forming, and all of this young girl's habits were virtuous.
In hearing the Gospel proclaimed today at Mass I particularly keyed in on the word "word." We know from John, the beloved disciple (specially beloved not only by Jesus, but by Mary, as well, as the Evangelist became her caretaker starting at the foot of the Cross), that Jesus is the Word (see Jn 1:1-18, esp. 1 and 14). It is particularly fitting that the one who kept God's Word perfectly in her heart now had the Word made flesh physically next to her heart. Only an immaculate heart could be granted such a privilege. Shame on anyone who denigrates Mary or her exalted place in salvation history.
Mary did not have a tombstone on which to put these words to live by, but may we all live in such a way whereby we could do so wholeheartedly.
Words of Wisdom
My Advent reading has included the first volume of Pope Benedict's Jesus of Nazareth trilogy. Unlike the latter two volumes, I never completed the first, but now find myself one chapter away from doing so.
Today I came across this wonderful quote, refuting scholars who attempt to classify Jesus in existing categories, particularly as simply a prophet:
These various opinions are not simply mistaken; they are greater or lesser approximations to the mystery of Jesus, and they can certainly set us on the path toward Jesus' real identity. But they do not arrive at Jesus' identity, at his newness. They interpret him in terms of the past, in terms of the predictable and the possible, not in terms of himself, his uniqueness, which cannot be assigned to any other category. Today, too, similar opinions are clearly held by the "people" who have somehow or other come to know Christ, who have perhaps made a scholarly study of him, but have not encountered Jesus himself in his utter uniqueness and otherness.

p. 292
No wonder the people of Jesus' time (and our time) had so much trouble believing in Jesus. The tendency from time immemorial has been to put God in a box. But God is the original out of the box thinker. Trouble arises when we place limitations on the One who is unlimited. We can never give enough credit to what the Lord can do and wished to do for us. Per today's Gospel, Mary placed no limitations on Yahweh — neither should we.
As for scholarly study inhibiting a real encounter with the person of Jesus, it is unquestionably a real danger. Knowing about Jesus does not necessarily lead to knowing Jesus. A kneeling theology is required. Diving into Scripture, meditating upon it, praying with it, and praying to it, (that is, the Word — see the first section above), and to the one who inspired it, the Holy Spirit, are vital (in the truest sense of the word). Authentic and deep relationships only happen through conversation, which is exactly what prayer is.
Dearest Jesus, may a true conversion of hearts lead many souls (especially my own) to more full appreciate your "utter uniqueness and otherness."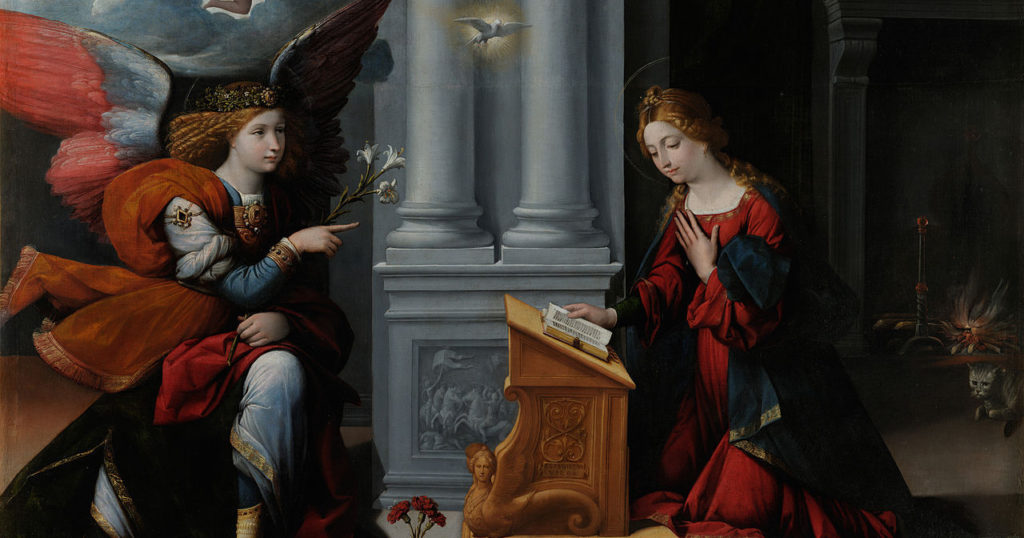 God bless.